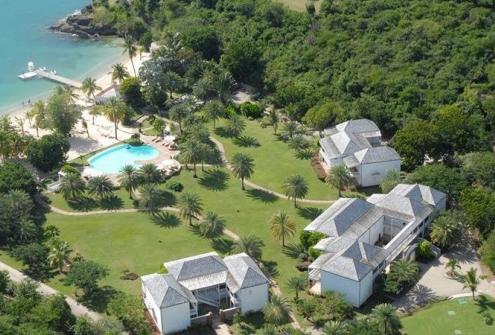 Located on the island of Antigua, this boutique hotel is a split-level resort on the hilltop overlooking English Harbour and the picturesque waters of the Caribbean Sea. It has the traditional feel of a Caribbean hideout. The Hotel has its own white sandy beach, with a small but lovely private dock. Clear emerald blue waters are encompassed by the magnificently lush green landscape of the surrounding hills. This semi-enclosure induces a feeling of privacy and seclusion. The Inn blends the perfect balance of Colonial style buildings with luxurious and contemporary comfort.
The hotel is ideally located for access to English Harbour with a complimentary boat to the historic bay of Nelson's Dockyard or take out a crystal kayak. If you wish to venture out of the comforts of the resort, they provide many options for you to pick from. A private sailboat or motoryacht charter, a day of swimming with stingrays, and land based island excursions are a few examples.
The Beach Cabanas at The Inn have direct access to the beach which is perfect for those that want to step from the room directly onto the soft sand beach. If you are looking for space or privacy, these may not be the best for you. Cosy rooms but the location makes up for size.
A fitness centre and the tennis courts will give you an opportunity to keep fit during your holiday as well as the spa for some relaxation. Golfers can enjoy eighteen-hole championship golf courses available at Cedar Valley and Jolly Harbour.
We love the suites which are located close to the beach (30m) and you can still fall asleep to the gentle rhythm of the waves and views of the Caribbean Sea and the breathtaking colors of sunrise and sunset. The Junior suites (40 sqm) are located on the ground floor, twin or double beds. Deluxe Suites are on both the ground and upper floors. The lower floor suites offer a large veranda leading onto the gardens, while the upper floor suites offer a large terrace/balcony with vaulted ceilings.
Maximum capacity is two persons in all of the rooms. There are no interconnecting rooms or facilities for young children. The hotel is best suited to couples or families with grown up children.